So I attempted to take part in the latest Ludum Dare which took place this weekend. I had even written an article about the contest and the preparations I was undergoing (or, at the very least, planning), just a week before. Friday evening eventually came, and the theme that was picked was 10 seconds. I decided not to do any actual coding in the first evening and get a lot of sleep - which ended up costing me a lot, considering that I ended up being busy Saturday morning and afternoon. This is what killed this project as a LD entry.
However, I'm quite content with the idea that I came up with, and I feel that it would be pretty fun to play once I get to implement all the content I currently have in mind.
The Ludum Dare team has come up with an additional challenge, called The October Challenge. In order to complete it, one must complete a game, publish it and earn $1 from it. That's it. It's the idea of finishing a project and putting it out there on the market.
I will take on this challenge, but I will limit myself to the first two goals. To just publish my game (for free!) on the Android Market, by the end of October. Progress will obviously be tracked on this blog every Sunday.
Like stated before, the theme of this competition was "10 seconds". My approach was to build an infinite running hack'n'slash/shoot'em'up game where the player's abilities (and, as a consequence thereof, the gameplay style) would change every ten seconds. Each "state" is associated with an animal whose abilities the human character you're playing as takes on. The bear aspect enables melee slashes that deal a lot of damage. The raven has a weak attack but causes dead enemies to explode and damage other, potentially causing satisfying chain reactions. The peacock can deflect enemy attacks, but doesn't attack itself. These are the main three animals I will implement, with the goal being to add way more of them for the player to unlock, as they progress. Randomly cycling through these should be tuned so that it keeps the game fresh and doesn't frustrate, confuse or bore the player.
The end goal is to have the game feel really good, exciting and rewarding. This kind of game relies on replayability. Flying numbers, combos, screen shaking, upgrades, light effects, and all that juice.
Right now, I just handle the basic game states - load/menu/startup/playing/dead/restart/quit. Some sort of progress tracking and crude level generation is also in place, but that's pretty much it. This is the current menu screen that greets the player upon startup.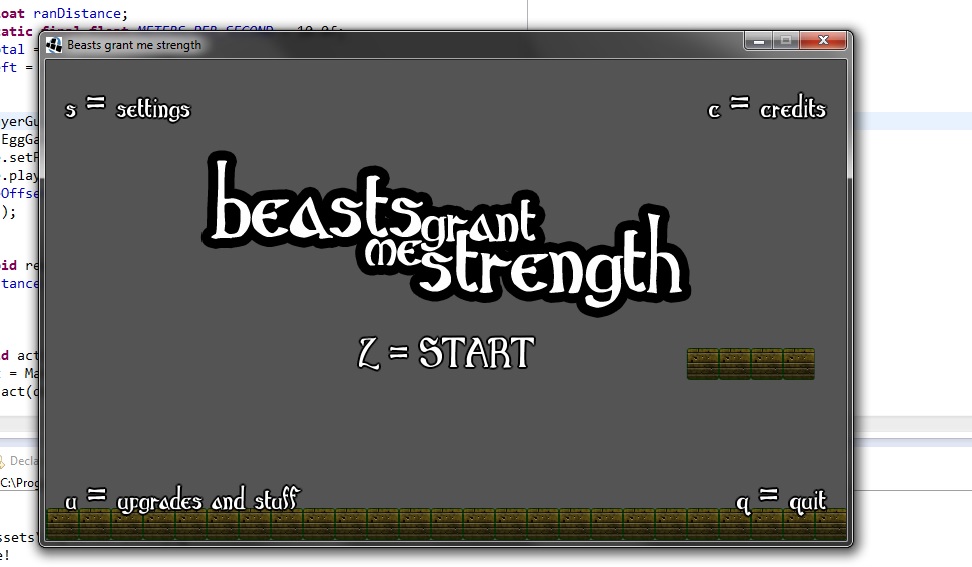 So, stay tuned for updates!